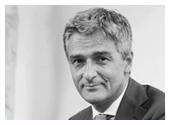 It is with great sadness that we learned of the passing of Giovanni Buttarelli.
 
Giovanni Buttarelli is and will always remain a big part of European data protection law and practice as we know it today. His expert knowledge, leadership and vision have inspired many of us who are active in the data protection field.
 
Throughout his career, Giovanni worked tirelessly to raise awareness and to increase transparency regarding data protection law, not just in Europe, but around the world.  
 
We have always appreciated Giovanni's openness and his positive attitude. He has been vital in kick-starting the EDPB and his contributions to the work of the Board have been very valuable and important.
 
Our thoughts are with his family and we hope they find the strength to deal with this sorrow.